Joined

Oct 8, 2021
Messages

997
Reaction score

1,294
I finished the brawn of the operation and that's the ignition panel and the fuel system. Here's some pics.
1st pic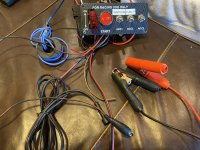 On the left, the blueish wire is from the starter button to the starter solenoid. I left about 6' of wire on the spool so it can be wound up.
The big battery cable looking clips are the power lead for the whole system. It's 12 ga wire.
The clip below it is from the ignition toggle to the coil positive. It has a built in resister.
The bundle of wire on the bottom left is a pos/neg pair for the fuel pump terminated by a weather pack connector.
I've got some small LEDs that I'm going to install for oil pressure and temperature warning lights.
Below is the backside. After trying to work it into an enclosure I tidied it up a bit.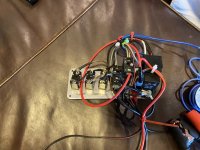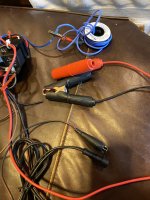 You can't see this very well but it's a small metal enclosure. I started coating foam to fit it in there.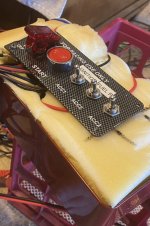 I like the fuel system. It will keep it running for a while.
Next iteration I want to buy a bigger console to fit gauges in and ans engine diagnostic test center.